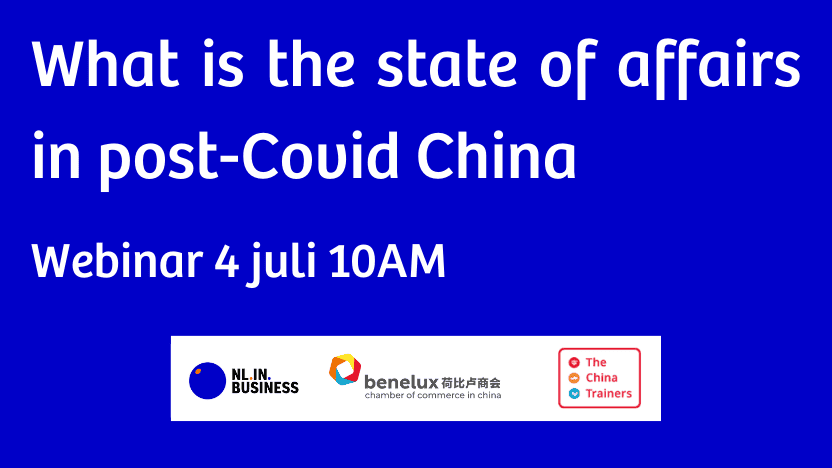 Meer over dit event
From the moment China was open for business-travel again, many people immediately sought the opportunity to travel and resume face-to-face meetings with Chinese business partners. Indeed, business talks no longer take place solely from behind our desks or phones and entrepreneurs and professionals are flying across the planet once again to catch up with Chinese counterparts to pick up where they left off. So, what are they saying and what can we expect after all this time? What has changed and what is the overall atmosphere? Have new policies impacted the business scene for foreign entrepreneurs, have attitudes changed towards foreign investors and to what extent is China's business climate still one that gives room to private enterprises? In short, what is the state of post-Covid China?
The key question 'What is the state of affairs in post-Covid China' will be addressed by The China Trainers in a webinar on July 4 at 10AM in cooperation with the Benelux Chamber of Commerce and NL in Business. This webinar aims to give an up-to-date outline of the current, post Covid business climate. To make this webinar as relevant as possible, we shall make use of input from businesspeople who have just returned from China, Benelux Chamber members in China, China experts in various disciplines and findings based on our own research and recent China travel experiences.
About The China TrainersAs experienced trainers and coaches of people who are professionally active in China, The China Trainers provide contextual understanding of China's business modus operandi and deliver practical support and tools in the fields of intercultural verbal and non-verbal communications.Lilian Kranenburg and Lianne Baaij are sinologists both with long track records in giving intercultural business trainings to professionals from both China and the Benelux. Their goal is to increase participants' levels of cultural awareness and confidence to become sensitive and responsive team players. The China Trainers offer inhouse training tailormade in-depth sessions, but also provide webinars and e-learnings designed to cater to individuals who prefer to learn online.
About Benelux Chamber of Commerce
The Benelux Chamber of Commerce is the Benelux business platform in China. Its members, leading companies from Belgium, the Netherlands and Luxembourg, share an active interest in developing trade and business in China. The Chamber of Commerce is officially recognised and supported by the Embassy of the Kingdom of Belgium, the Embassy of the Kingdom of the Netherlands and the Embassy of the Grand Duchy of Luxembourg in China.
Benelux Chamber has been growing at a steady pace since it was established in 2001. It currently contains 3 chapters; Beijing, Shanghai and Guangzhou (Pearl River Delta). It is the prime platform for the Benelux business community to get together.
The Benelux Chamber currently has over 350 members, aspiring to grow further every day. Its base consists of Large Enterprises, Small and Medium sized Enterprises (SMEs) as well as individuals with an active interest in developing their business in China. As an independent, non-profit organisation, the Benelux Chamber is managed by a full-time secretariat of both Benelux and Chinese staff. All practises are guided by an active Board of Directors. Benelux Chamber sustains itself through government subsidies, membership subscriptions, sponsorships and event fees.
The state of post-Covid China
Datum

4 juli 2023

Tijd

10:00 - 11:00
Organisatie
NLinBusiness
Benelux Chamber of Commerce in China
The China Trainers