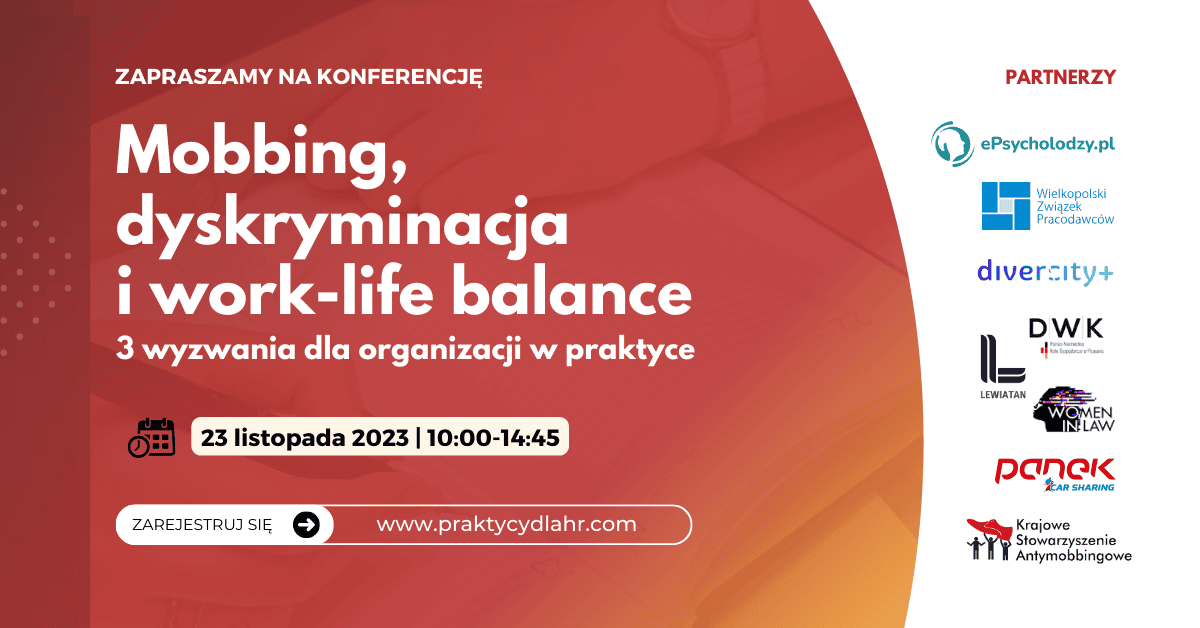 More about event
On behalf of the NPCC and the organiser of the conference - VON ZANTHIER & DACHOWSKI law firm, we kindly invite you to participate in the meeting on the very important topic: "Mobbing, discrimination and work-life balance - 3 challenges for organisations in practice".
The event will be held on Thursday, 23 November 2023 in an online format, from 10:00 to 14:45.
The event will be held in Polish.
The conference is addressed in particular to employer representatives - HR managers and HR heads. Participation is free of charge after registration via the form.
During the meeting, the speakers - Karolina Barałkiewicz-Sokal, Dr. jur. Jan Muszyński, Paula Staszak-Urbańska, Dr. Henryka Bochniarz, Katarzyna Łażewska-Hrycko , Anna Makowska, Judge Tomasz Kałużny, Maciej Panek, Dominika Sadowska, Robert Lisiecki, Nadia Kurtieva and Michał Pajdak will look at bullying and discrimination from different perspectives - legal, judicial, psychological as well as from the employers' perspective. They will suggest to employers how to practically limit and fight against these negative phenomena.
A detailed programme of the event and organisational information are available on the dedicated conference website: https://praktycydlahr.com.
Date: Thursday, 23 November 2023
Time: 10:00 - 14:45
Registration form
Webinar: Mobbing, discrimination and work-life balance - 3 challenges for organisations in practice (PL)
Date

23 November 2023

Time

10:00 AM - 2:45 PM
Organisation
Netherlands-Polish Chamber of Commerce (NPCC)